As a professional London portrait photographer I take photos of people for many different uses, most often for websites, publications and social media profiles, and sometimes for personal use.  Typically I create headshots for businesses and professionals, location portraits at client premises or around London, and studio portrait photography.
I work with a wide range of clients, from business and professional people who need corporate images, to individuals who want to capture a snapshot of their lives.
Your London portrait photography session can take place at my studio or at a location of your choosing.
London Portrait Photos
My Approach To Portrait Photography
People look much better in photos if they are at ease and relaxed in front of the camera. In addition to knowing all about lighting, posing and camera equipment, it's the ability to work with people that I think makes me a good portrait photographer.
I try to make the session as relaxed and informal as possible because that makes shoot much more enjoyable for me and my client, and it results in better photos. Hopefully the selection of images on this page gives a good idea of the type portrait photographer I am.
Nearly everyone I work with says, "I hate having my photo taken" at some point during our time together. So do I. It's my job to make you hate it a little less.
I really enjoy photographing people. A huge part of that enjoyment comes from the challenge and rewards of working with a massive variety of people. Two main factors are important to me when I photograph someone: one is the way the person looks, and the other is the way the person acts.
The way someone looks is important to the way I photograph them because if affects the way I will light them and the way I will ask them to pose. Sometimes I need to accentuate or conceal certain features to make the person look their best. Using my knowledge and experience I use lighting which will make my subject look as good as possible. Every face reacts differently to light, and now that I've taken photos of every type of face I can quite quickly apply several lighting techniques that will work for an individual. As well as lighting it's also about posing and using flattering angles to show the subject at their best.
It's always important to consider how the person wants to look. There is no point in me thinking I've taken the worlds best photo if the person I'm photographing doesn't like the way they look in the image. So I always get feedback on the photos I'm taking throughout the shoot. Additionally I'll always use locations that are relevant to the subject, sometimes the studio is best, and sometimes other locations around London are better.
The way a person acts is equally important as the way they look. I've worked with massive extroverts and much more reserved people. Everyone needs to be treated individually while they are having their portrait photo taken. My job is to capture images which express not only the way a person looks, but also shows their personality. I may treat two people completely differently. One may require a slower more relaxed approach to gently coax the best images from them, another person may react better to a higher energy shoot. Some people need lots of support and guidance with posing, others need none at all. I've become good at quickly building a relationship with my client so that I can really capture what they are all about. I know that the first 10 minutes of a shoot are unlikely to produce the best images, so I use this time to get to know the person and observe their natural poses and movements. As I spend more time with my client I know that we'll produce a set of images that both the subject and I will be happy with.
So far I have failed only once to produce photos that my client was happy with, if you come into the studio I'll tell you about it.
Portrait Photography Tips
If you're working with a photographer in London to create your portrait, here are some tips to make your session as successful as possible:
– Try to arrive at the session in good time so you can relax, adjust your hair, and take some time to chat to the photographer.
– Bring two or three outfits so that the photographer can create a range of different shots. You'll then benefit from having a set of portrait photos you can use for different uses over a period of time.
– Try to have a night in before the shoot so you look your best.
– Relax and enjoy the session. A good photographer will be able to make you feel at ease and enjoy your shoot. Both you and the photographer will be more satisfied with the images if they capture something of your true personality.
– If you'd like to learn to shoot your own portraits, and bypass booking me as your photographer (not recommended of course), here are some tips on shooting portrait photography.
Where to See Portrait Photography in London
It's always interesting to look at portraits, they may give you ideas and inspiration for the types of portrait images that could be created for you. Much of the lighting used today by London portrait photographers is adapted from the old masters, who created stunning portrait images. Many of the same principles of lighting and posing are applied by photographers today. Check out London's National Portrait Gallery for inspiration.
Contact Me About Your London Portrait Photography Shoot
If you'd like to enquire about creating some portrait photos for you, or headshots, then just send me an email using the form below, or call me on 07779 082 909. I work from a studio in Kennington, London; one stop on the Northern Line from Waterloo, or I can work on location.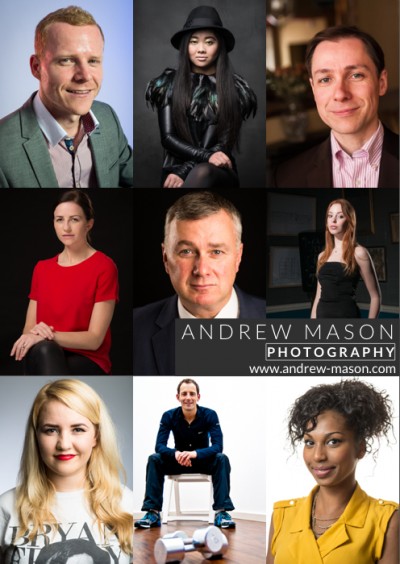 By Andrew Mason.